Image Information;
I originally shot this image as an entry to the DPChallenge.com "Color on Color" challenge from Mid July 2006. Although happy with the shot itself, I was concerned about how much green was in the image and therefor it's validity to the challenge. As it turns out, I was voted 26th out of 236 so did rather well.
I also created another variation of this shot, specifically for a client seeking an image as a printed canvas, similar to that of below;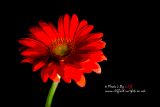 For a quotation or to purchase a printed canvas of this design, click
here.
Tech Info;
Aperture: 5.0 ISO: 200 Shutter: 1/50
{Please mention this page's URL should you wish to contact me regarding a purchase of this image.}